A few weeks ago I woke up in a particularly foul mood. Yes even though I preach healthy, HAPPY, wealthy I'm not always all three at the same time. 🙂 I decided that I needed some serious beach time because that always makes me HAPPY. I also was dying for some REAL New Orleans Cajun food. As I contemplated which I wanted more I decided that BOTH is what I wanted.
So I hopped out of bed, jumped on PriceLine and made a quick plan…
I decided I'd head to Gulf Shores, AL (think white sand and clear blue water) and get my beach "fix" and then New Orleans, LA was only a 3 hour hop, skip, and a jump away so I could head over there once I was done with the beach.
Now who in their right mind just wakes up and decides this?
ME! 🙂 And you should try this too!
I knew I needed a break, but I still had work to do so it was going to have to be a working vacation.
So I packed up my purple backpack (most things in my life are purple) with my laptop, a few swimsuits, a few changes of clothes, and off I went!
On the drive down (6 hours) thanks to my phone I could have Internet access by enabling my "hotspot" on my iPhone I was able to check emails and get back to everyone on this and that. If you have a smart phone you should be able to do this too.
Once we got there it was late so I decided to send my list a video tutorial that promoted a product I'm an affiliate for. That educated my readers and got them buying something from me. Did business – made money! 🙂
The next day I was up by 8am (I never get up early unless there's a beach involved) and on my way to the beach. After several hours of beach time (where since I couldn't find a standup paddle board (SUP) rental shop, I opted for some boogie board time and a few nasty fights with some jelly fish) I of course wanted seafood! I never go to the beach and NOT eat seafood…

That night I got back to my hotel cracked open my laptop and did "business" till bedtime. The hotel internet connection wasn't the greatest so I just used my "hotspot" again. I was able to get A LOT done though!
TIP: When you're traveling always try to stay at the same hotel chains. If you get an account with them you can usually get "points" for your stay that DO add up. I was able to stay at a really nice Marriott ON the beach for two nights using my points and $100. That's unheard of where I was staying in Gulf Shores.
The next day I was up bright and early! I again spent a few hours working and then it was off to hit Bourbon St. If you've never heard of Bourbon St. in New Orleans, LA you've GOT to Google it and at some point get yourself there. This is such a magical place full of history and of course lots of great bars.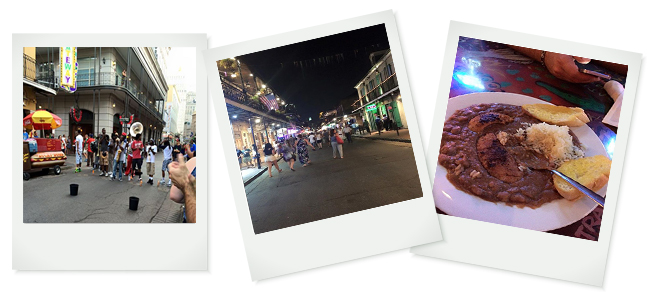 Now I will admit that I spent a lot of time "exploring" Bourbon St. so when I got back to my hotel very late that night I was way too exhausted to even push the power button on my laptop. If you have work to do and you still want to vacation make sure that you keep yourself on a time schedule. It's hard, but you've got to stay disciplined. That night I failed on the discipline, but the next day I was up and ready to hit the road for the trip back home where again thanks to my "hotspot" I was able to get several hours of work done.
So why am I sharing all of this with you?
Because if you set your online business up right you can travel whenever you want, have fun, and still take care of business. If you want true freedom you've got to have an online business that can be run from anywhere in the world at anytime.
If you'd like to see some examples of some great what I call "backpack businesses" then check this out >>> http://backpackbusinesslifestyle.com/the-big-list-of-online-business-models
A backpack business is an online business that you can run from anywhere in the world and they will be the only types of online businesses I will be teaching you about here at http://www.BackpackBusinessLifestyle.com
You're gonna need a laptop and a phone that you can use for an Internet connection and I also suggest a purple backpack. Well, it doesn't have to be purple, but a backpack makes it easy to keep all your "tech gear" all in one place. I have a SwissGear backpack and it's got a special protective spot my laptop fits in and plenty of room for anything else I need.
Okay so I hope you enjoyed hearing about my "little get away" and hope your working towards setting up an online business you can run from anywhere in the world too. And if you need help picking a business like this don't miss this >>> http://backpackbusinesslifestyle.com/the-big-list-of-online-business-models
Here's to wishing you a healthy, happy, and wealthy life!
Liz