Now here's a "backpack business" we haven't talked about. 🙂
Coloring books!
It's such a hot niche right now!
These are just the first 10 results when I use my keyword tool to see what people are searching for in this niche.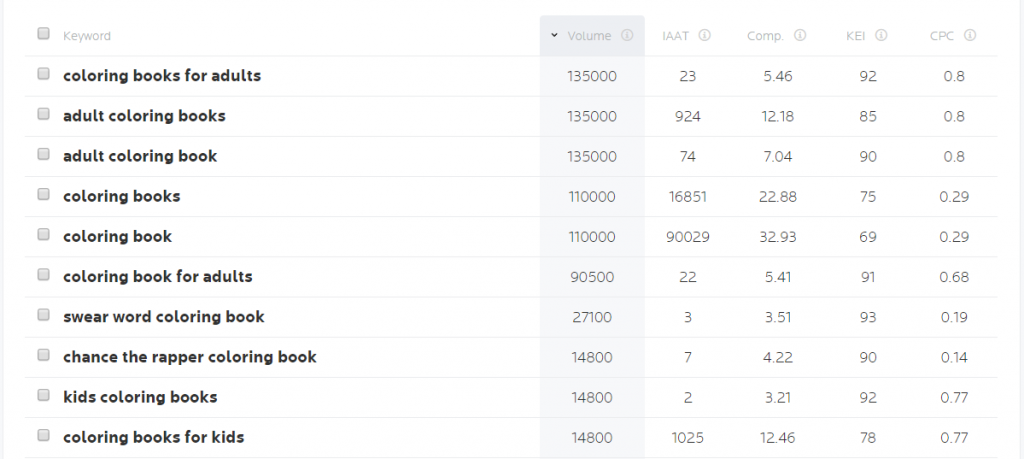 And there were soooo many other keywords.
My point though is this niche is hot!
AND by using coloring books that you get the PLR (private label rights) to you can easily create your own and start selling.
You can take them, setup your own coloring book store, promote your store and make money from the coloring books you buy the PLR for.
Simple easy little side business. 🙂
So here's how to get started…
1. Find coloring books with PLR
They are currently everywhere right now. I found these super cute ones the other day from Connie Stuart >>> http://www.InstantIncomePLR.com/UkuleleColoringBookPLR
You can find LOTS of them with all kinds of different designs and themes. Connie has some other ones too. This is by far my favorite http://www.InstantIncomePLR.com/HideousHawaiianShirtsColoringBookPLR
Once you buy these coloring books you can then sell them as your own. You can edit them and sell them under your name. Get creative… Or don't… 🙂
2. Setup a store
You have A LOT of options when it comes to this.
If you want to sell your coloring books as digital downloads I'd setup your store on your own domain name using something like Amember.
That's not your only option though. Do some research and find what works best for you!
If you want to sell your coloring books as physical products you can use Amazon (there's several ways to use it) or setup your own ecom store using something like Shopify.
If I were to start this business I would for sure go the route of starting an ecommerce store and selling my coloring books as physical products. Just my two cents…
3. Promote!
Once you're all setup then all that's left to do is promote your store.
I have a ton of videos on my YouTube Channel all about traffic, so we're not going to cover that here. Head over to http://www.YouTube.com/liztomey and you'll learn all about promoting. 🙂
So that's the battle plan to make money with coloring books that you get the PLR to.
1. Get coloring books with PLR
2. Build a store selling them
3. Promote your store
Of course just like any business it takes time to know what you want to use, get it all setup, and get traffic, but this is a great little business to start and a lot of people are making money doing this.
Here are a few extra tips to think about…
1. Buy several different coloring books with PLR and take them and make your own coloring books. You could do "themed" coloring books, beginner, intermediate, and advanced coloring books, coloring books for certain niches, holidays, etc.
2. Hire a graphic designer and have them make really cool covers for you to make your coloring books different and stand out.
3. Journals are another hot topic. Creating journals with coloring pages in them is another product you could offer from your coloring book store. Grab journals with PLR and coloring books with PLR and create hot little sellers!
Okay so hopefully this little tutorial helps you understand how to make money with coloring book PLR that you buy. There's many ways to use these other than just selling them as your own products too. Depending on your niche they make great bonuses, lead magnets, and the like. Just open your mind and think how you can monetize coloring books with PLR!
Okay that's it for today… I'd love to hear your thoughts on what I've covered here, your opinions, and if any of you guys actually use and/or create coloring books with PLR leave your comments below!
Liz
P.S. Here are some resources of more coloring books with PLR and ways to make money with them!
1. More coloring books with PLR –
http://www.InstantIncomePLR.com/SpringAndEasterColoringBookPLR
http://www.InstantIncomePLR.com/ValentinesDayColoringBookPLR
http://www.InstantIncomePLR.com/UnderTheSeaColoringBookPLR
http://www.InstantIncomePLR.com/HalloweenColoringBookPLR
http://www.InstantIncomePLR.com/LoveColoringBookPLR
http://www.InstantIncomePLR.com/FitnessPlannerColoringBookPLR