My biggest message here at BackpackBusinessLifestyle.com is to get healthy, happy, and wealthy!
I'm going to do a few different posts over the next few days focusing on each of these things. Today I want to talk about how I got healthy!
Specifically, how I dropped 70 pounds and developed muscles in places I didn't know muscles could even exist!
Disclaimer: I am not a health expert AT ALL. I'm just sharing with you what I've personally done to change my health status.
First of all I am and will always be a work in progress. At this point I still have about 20-25 pounds to go before I will be "satisfied" with my weight loss, but to date I have lost 73 pounds. You need to except the fact that your health is and will always be a work in progress. You don't just get healthy and then stop!
You've got to constantly…
1. Watch what you eat! – I still have my days where a half a bag of Oreo cookies wins, but I try REALLY hard to let that only be an occasional thing. I don't go crazy and buy all organic or follow special diets. I just try to eat stuff that feeds my body and not my addictions. Food is just fuel and nothing more. You have to train your mind to believe that.
I have cut almost all soda out of my life (this will allow you to drop 10-15 pounds in about 2-3 weeks right off the bat), I eat as many fruits and vegetables as I can, I stay away from red meat because of my own beliefs in what I believe it does to your body, and I don't eat at night. I give my body several food free hours between 8pm – Noon.
For the most part! 🙂
Here's the bottom line: Only eat when you're hungry, eat stuff that's good for you and as close to natural as possible, cut sugar (I can gain 5 pounds in a week if I eat too much sugar), and when you have a bad day and you've eaten a bunch of bad stuff just start over tomorrow! Don't give yourself a free pass to have too many bad days though!
2. Stay active! – They say that eating right is 80% of what makes you successfully lose weight/get healthy. Only 20% is exercise. I don't believe that! You've got to put your sweat equity in to drop the weight and keep your body health. What you put in your body is the biggest part of it, but I'd give it at the most 70/30.
Exercising isn't fun unless you make it fun and have it as part of your lifestyle.
I started out by going down to our local park called River Park. It's an 8 mile stretch that goes along the Tennessee River. I became absolutely addicted to it and would be so mad when it would rain because I couldn't go get my walk on! 🙂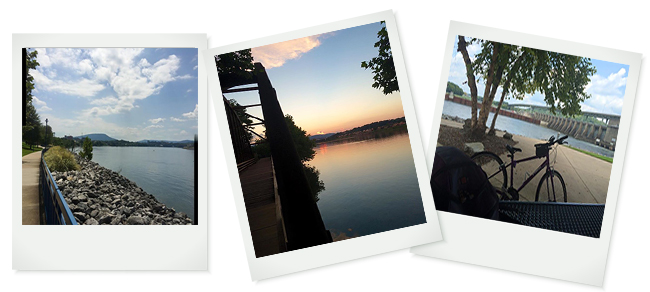 I started researching the caloric burn between walking and running and since I was wanting to drop A LOT of weight I began running. I personally only recommend running for those who want to drop a lot of weight quickly. It hurts, it's hard, and for most people it just totally sucks! Once you hit your goal weight then I don't recommend running any longer. Get your cardio some other way unless you're one of those weirdos that really likes it. 🙂
The way I've been able to keep active is by changing up how I exercise. If I had to exercise in the same way every day I would lose interest and NOT do it.
One of the best things I did was to buy a bicycle and ride it. At this point I ride my bike about 15 miles 4 days a week. I don't mean leisurely either. I mean pushing yourself to ride as fast as you can. If sweat isn't pouring off of you then you're not burning enough calories to make it worth it!
I also do Les Mills classes (they use cardio and weights together for serious caloric burn), am getting into stand up paddle boarding, kayaking, cross fit training, and a few other things. The main thing is keep a diverse group of activities that make you sweat!
Is all of this easy?
Nope!
But if you make it part of your lifestyle it just becomes second nature. Now I crave being active, and find myself in a really bad mood if I don't get out and do SOMETHING at least 4-5 times a week. Even if it's only for an hour. Make that hour count.
I can't give you any shortcuts to exercise, but I can help you with a few shortcuts to losing weight…
1.Fatloss 4 Idiots – This is a great way to drop 10-15 pounds. I found it one night when I was doing some niche research. I bought it, went through it, followed the 11 day diet and dropped 12 pounds pretty quickly. I've done it twice now and the second time dropped another 14 pounds. You can see it at http://thiskicksbutt.com/FatLossIdiots
2. Apple Cleanse – As you try to lose weight you will find yourself hitting plateaus. When I've done this I have done the 3 day apple cleanse. Yes it sucks, but it'll reset your body, take about 5 pounds off of you, and then set you up to continue losing weight. Tom Beal talks a lot about this. You can see his whole 3 day apple fast journey at http://tombeal.com/blog/?p=1167
Here's the biggest take away here…
1. Food is only fuel. ONLY use it to fuel your body, and fuel it with good stuff. Lots of fruits and veggies. Stay away from sugar! It makes you FAT bottom line. Yes it's hard, but once you make the changes they will become second nature.
2. You've got to sweat! The only way to keep your body healthy and keep the weight loss going and keeping the weight off is to be active. You've GOT to sweat. To keep yourself going constantly change what you do to keep active. Walk for a couple of weeks to get you started. Maybe try some running a few days a week. Ride your bike like you stole it! Find different cardio classes to join at your gym. If you like outdoor stuff then pick up some hobbies that make you active.
Again yes it is hard to stay active, but once you make the changes you WILL crave it!
This is exactly how I've dropped the weight, how I'm continuing to drop weight, and how I'm building a body that is healthy and that I'm proud of! My journey is still on going and will be FOREVER, and I'm completely okay with it.
I hope you've gained some inspiration and knowledge from this post, and I will be sharing more tips and tricks with you guys on my "getting healthy" because it's SO important that you are healthy because it does effect you getting happy and wealthy! 🙂
I'd love to hear from you on your thoughts on what I've shared here. I'd also like to hear your success stories, and hear from those of you who have been inspired to start your "better health journey" so make sure and leave your comments below!
Here's to wishing you a healthy, happy, and wealthy life!
Liz
P.S. I share a lot of my healthy activities on Facebook along with stuff I'm eating that's good for me and more. Follow me on Facebook or send my a friend request at https://www.facebook.com/liztomeybing to follow my journey! WARNING: I am a real person and my Facebook page can get pretty crazy. If you're easily offended I don't recommend being my Facebook friend. 🙂